HERITAGE & ARCHIVES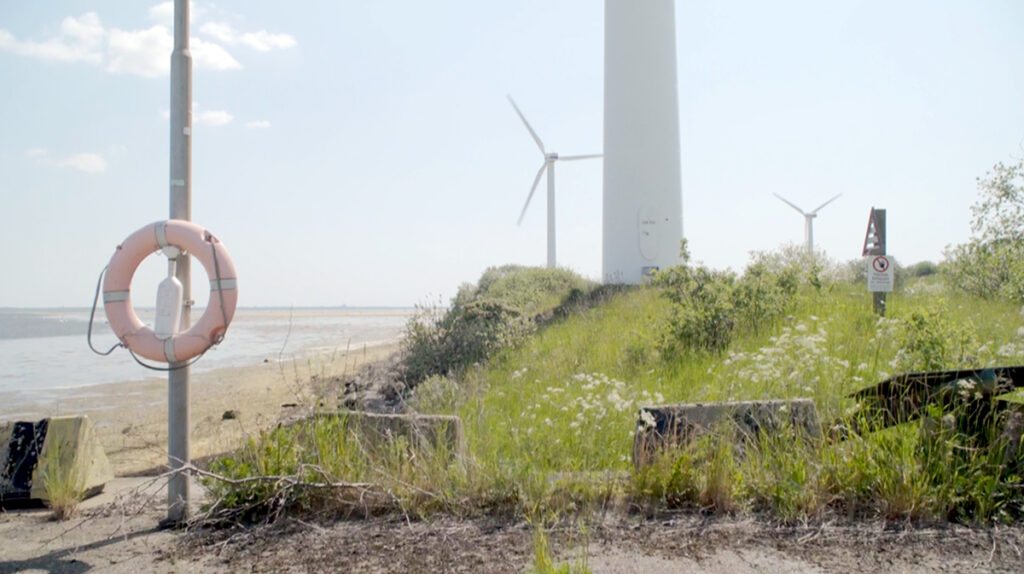 Excursion: "Gipsön" the Gypsym Island – A Post-Industrial Monumental Sculpture and Agricultural Shadow Place
Image above: Gipsön, the Gypsum Island. Film still: Karin Wegsjö / (p)Art of the Biomass.
In a series of excursions, seminars and art & science retreats, Humus economicus aims to visit sites that bear witness, or stand as ruins of recent pasts. The sites have been chosen based on their potential to act as complex "bundles" where multispecies, affective and political ecologies are knotted together.
In June, we finally had an opportunity to visit Gipsön outside Landskrona. What meets the eye on this sunny summer's day is a green island with blue-green ponds and massive windmills beating the wind. At the horizon further south, we see the silhouette of Barsebäck, a nuclear power plant, and the Öresund bridge connecting Sweden with Denmark. You need to bend down and scratch the surface to reveal from where the island has gotten its name, Gipsön, the Gypsum Island. Below a thin layer of green, twelve meters of white phosphogypsum extends down into the sea. The island is made of waste material from the production of fertilizers from phosphate rock. It is a toxic deposit at sea, begun in 1978, but the production of fertilizers in Landskrona extends as far back as 1882. Due to the many heavy industries active in the area the condition of Öresund, which is part of the Baltic Sea, steadily declined in the latter half of the 1900s. Not far from here, below the surface of the sea, underwater islands can be found. The seafloor has been sealed and left deserted as gypsum at first was silted directly to sea water, a common procedure in Europe at that time.
Artist and Humus economicus co-researcher Malin Lobell visited Gipsön the first time in 2016, and dug into local archives to trace the history and entangled relations of this site. This initial work is continued by Malin Lobell, Janna Holmstedt and Karin Wegsjö in the art collective (p)Art of the Biomass, in the project "Gipsön, post-industrial monuments and social sculptures", and in collaboration with Humus economicus because of the island's stark connection to soils.
As artists, we have approached the island as a post-industrial sculpture, a monument to industrial agriculture and the future optimism of yesteryear. In the Humus economicus research group, we reflect on Gipsön at the intersection of art, urban studies and critical heritage studies. We understand this site through its historical and contemporary relations with soils as a vital, yet disregarded "infrastructure of bios" (Puig de la Bellacasa, 2013). We re-visit Gipsön and its legacy to contemplate what kind of inheritance this emerging ecosystem is, as it connects urban lives/stomachs with food system, soils, mines, fossil fuels and global trade routes, while plants, mussels, fungus, microbes and other nonhuman critters are hard at work filtering, containing and breaking down the toxins.
The single-minded rationalization of soils that has focused on maximizing the effects of chemicals for increased yields has greatly contributed to the agricultural excess of today, but also to a relational rift – a widening separation between humans and soils. The Gypsum Island testifies, as a toxic monument, to the slow violence (Nixon 2011) of chemical agriculture, to the dark ecologies left in the wake of such modern progress. As a waste land, what environmental philosopher Val Plumwood called a shadow place (2008), shadows are cast on this island, as well as on the surrounding sea and the agricultural lands they are connected to, from recent pasts into technoscientific futures. Synthetic fertilizers still shape universal solutions to feed the world. As Plumwood writes, shadow places are the places that consumers "don't know about, don't want to know about, and in a commodity regime don't ever need to know about or take responsibility for" (2008). Yet, these degraded places remote from self that sustains a certain way of life in privileged places, need to be acknowledged as part of our common home and backyard. These expanding dark ecologies are still what we bring to unfolding futures as we buy our breakfast bread in the supermarket.
Phosphogypsum – Waste from the Fertilizer Industry
Phosphogypsum is stored indefinitely in deposits because of its radioactivity, caused by naturally occurring substances like uranium and daughter isotope radon. Radon is a radioactive gas formed when radium decays, and it is found naturally in rock and soil. World production of this waste exceeds 200 million tonnes per year. Open waste dumps are common, and they occupy vast territories, for example in Ukraine, China and Poland. Negative environmental impacts include the contamination of groundwater and surface water, soil, and vegetation cover due to leakage of cadmium, fluoride, lead and other toxic components (Chernysh et al 2021).
Gipsön is not well known outside the city of Landskrona. You could even say it is hidden in plain view, right across the harbor of this historical, coastal Swedish small town. Gipsön consists of about 4 million cubic meters of phosphogypsum and covers an area of 43 hectar, with the highest level once measuring 15 meters. The island is sealed off from the sea it is resting in and it has been monitored for leakages for decades. The waters surrounding Landskrona is highly contaminated, but due to the multiple heavy industries that have been active in the area, it is impossible to state exactly which pollution come from which industry. To prevent erosion, parts of the island have been covered with a layer of boulder clay and at some parts with sludge, which have allowed for plants, bushes and even trees to migrate here and take hold. In terms of radon levels Gipsön is classified as a high risk area, not suitable for housing (Landskrona stad 2018).
Nowadays, the island is also referred to as the Wind Island, because of the many windmills covering it since the 1990s. There has also been plans of installing solar parks. Its toxic heritage – a reminder that we have to own this place too, as the darker side of the place we call home – is literally overwritten with symbols and trademarks of greener futures.
There will be more posts about the Gypsum Island as the work continues.
Knotted Sites
Other "knotted sites" we have visited so far include The Nothing Forest and the Experimental Field in Stockholm, and Fogelstad, home of the pioneering Fogelstad Group and the Women Citizen's School, where we revisit the radical environmental manifest "Fred med Jorden" [Peace with Earth] written by Elisabeth Tamm and Elin Wägner 1940, in which they discuss land ownership, democracy and ecological farming way ahead of their time.
References
Chernysh, Yelizaveta et al (2021). Phosphogypsum Recycling: A Review of Environmental Issues, Current Trends, and Prospects. Appl. Sci.2021, 11(4), 1575; https://doi.org/10.3390/app11041575
Landskrona stad (2018). Detaljplan för del av Fjällräven 1 m.fl (Bävergatan) Norra industriområdet, Landskrona stad. Dnr: PLAN 2018.8
Nixon, Rob. (2011). Slow violence and the environmentalism of the poor. Harvard University Press. https://doi.org/10.4159/harvard.9780674061194
Plumwood, Val (2008). Shadow Places and the Politics of Dwelling, Australian Humanities Review, 44, 139 – 150.
Puig de la Bellacasa, Maria (2013). Encountering Bioinfrastructure: Ecological Struggles and the Sciences of Soil, Social Epistemology, 28(1): 26-40. DOI: https://doi.org/10.1080/02691728.2013.862879